Social Justice

UUCA has been a voice for social justice in our community for over 60 years. Our core beliefs about spiritual growth and acting for social justice are reflected in many ways, including our sermons, music, religious education classes, and opportunities to take action. For many of us, working for social justice is an essential component of our life together as a faith community and as individuals seeking to live ethically in the world today. UUCA has affirmed that our church is a force for service, social justice, and environmental justice.
UUCA's social action approach
For effective social action, we need to balance our efforts and provide a way for participation by everyone. "SEWAC" is what we strive for:
Service or charity work to help those who are hurting presently
Education, so that we all may learn more about what causes societal pain and identify effective solutions
Witness, providing opportunities for people to show up and speak up as an expression of our faith
Advocacy, speaking to elected officials and the media, to promote the development of policies that will be life affirming and justice-making.
Community, bringing people together to rejoice and collaborate, to form relationships and partnerships across boundaries of race and faith and economic class, and to organize to build power for change.
All efforts in the SEWAC framework are to be lived out in ways that are anti-racist, multi-cultural, multi-generational, relational, and green.
Below you will find many opportunities to join the social justice work of our church.
Share the Plate (Sunday offering)
A key element of UUCA's social justice agenda is Share the Plate. Each year, members and friends of UUCA give thousands of dollars to our Sunday morning worship service offerings. Our offerings are shared with our community partners, and UUCA initiatives which reach out to the community to put our faith into action, including groups such as:
Alianzas – (formerly Partners for Arlington and Guatemala-PAG). Supports witness program and scholarships in Guatemala and advocates for Guatemalan community in Arlington
ASPAN – Arlington Street Peoples Assistance Networking
ALIVE! – Alexandrians Involved Ecumenically
AFAC – Arlington Food Assistance Center
Beacon House – UU ministry for at-risk youth and families in the Washington DC
Culpepper Garden – Senior affordable living community
The Dream Project of Northern Virginia – Advocates for immigrant students
La Cocina VA – Provides job training in the Latino community
HOPI – Monetary support and work service projects for elders of Hopi Nation in Arizona
Offender Aid and Restoration (OAR) – Helps ex-offenders transition and become established in the community
Peace Camp – Unique summer camp program that teaches peace
PFLAG – Parents and Friends of Lesbians and Gays
POF-EV – People of Faith for Equality Virginia
Sanctuaries DC – Artist collective that promotes social change through the arts
VOICE – Virginians Organized for Interfaith Community Engagement – Interfaith community that supports social justice through community engagement
UUSJ – UUs for Social Justice
UUSC – UU Service Committee – Advocates for human rights and social justice around the world
Direct Volunteer Service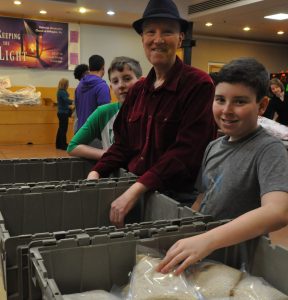 UUCA members and friends can find many ways to provide direct service through a number of groups which link to our own and area projects:
Prepare bag meals at UUCA for ASPAN. Contact Ken Perkins-Gough
Volunteer for AFAC. Contact: Denise Kappler
Volunteer for ALIVE! Contact: Ann Marie Hay
Tutoring at Buckingham Community Center. Contact: Nancy Hall
Mentor Dreamers. Contact: Pat Findikoglu
Volunteer with Peace Camp. Contact: John McLaughlin
English for Speakers of Other Languages. Contact: Ric Blacksten
Equal Justice Coalition – focused on criminal justice and rehabilitation issues. Contact: Ric Blacksten
Meals on Wheels. Contact: Sara Anderson
Become a "Helping Hand". Assist congregants with rides, meals, and other logistical support – Contact: Sarah Masters
Education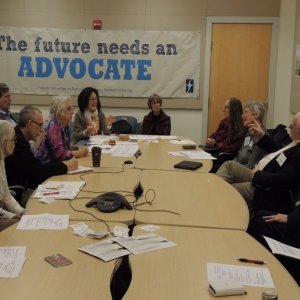 Many groups offer educational programming throughout the year. A few of these include:
Peace Camp. Contact: John McLaughlin
The Day Alliance. Contact: Mary Lynn Ernstthal
NoVA-UUJME (Northern Virginia Chapter of UU's for Justice in the Middle East. Contact: Allan Kellum 
Living the Pledge to End Racism. Contact: Alex Ziehm
PFLAG – Parents and Friends of Lesbians and Gays. Contact: Gerda Keiswetter
Witness and Advocacy
UUs for Social Justice. Contact: David Shilton [DShilton@aol.com]
VOICE – Virginians Organized for Interfaith Community Engagement. Contact: David McTaggart [dmctagg@gmail.com]
Equality UUCA – Advocates for LGBTQ rights. Contact: Elizabeth Fogarty [eafogarty@aol.com]
PAG – Partners in Arlington and Guatemala. Contact: Chris Sutton [chrispete44@verizon.net]
Community
VOICE – Virginians Organized for Interfaith Community Engagement. Contact: David McTaggart [dmctagg@gmail.com]
The Dream Project.
Welcoming Congregation
UUCA as a Welcoming Congregation is inclusive and expressive of the concerns of people who are lesbian, gay, bisexual, transgender, and/or queer.
UUCA was honored as a Welcoming Congregation by the Unitarian Universalist Association (UUA) in 1990. We committed then to educate and act in ways that would welcome and celebrate the presence and participation of individuals who are gay, lesbian, bi-sexual, transgendered. In the years since then, through support groups, educational programs, art, outreach and advocacy, UUCA has strived to be a welcoming and inclusive place for the GLBTQ community and their families.

Living the Pledge to End Racism
UUCA has worked for racial justice since its founding: fighting segregation in the 1950s and working for civil rights in the 1960s; learning, teaching, and advocating for diversity, inclusion and the end of prejudice and unconscious privilege in the decades since.
In 2015, following the UUA General Assembly vote to support the Black Lives Matter Movement, we began to work in solidarity with communities of color and to make a pledge to seek to transform ourselves and the world for racial justice. In the fall of 2016, over 200 people – UUCAers and neighbors – signed a Pledge, and since then, programs are offered to help us understand how best to live out that pledge.
The Pledge
I BELIEVE that every person has worth as an individual.
I BELIEVE that every person is entitled to dignity and respect, regardless of race or color.
I BELIEVE that every thought and every act of racial prejudice is harmful; if it is my thought or act, then it is harmful to me as well as to others.
Therefore, from this day forward
* I WILL strive daily to eliminate racial prejudice from my thoughts and actions.
* I WILL discourage racial prejudice by others at every opportunity.
* I WILL treat all people with dignity and respect;
* I WILL commit to working with others to transform this community into a place that treats people of all races, ethnicities, and cultures with justice, equity, and compassion,
* and I WILL strive daily to honor this pledge, knowing that the world will be a better place because of my effort.
Climate and Environmental Justice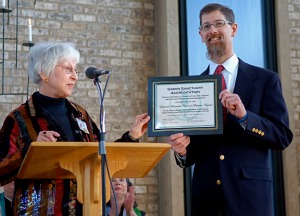 UUCA has been sanctioned as a Green Sanctuary by the Unitarian Universalist Association since 2009. Being a Green Sanctuary is one of the ways we work toward a vision of a healthier, more sustainable future. We are dedicated to our Seventh Principle, "Respect for the interdependent web of all existence of which we are a part." As a recognized Green Sanctuary, we live with a deep awareness of our climate crisis and the deep environmental injustices of our time. The UUCA congregation unanimously passed the "Green Lens" policy in 2008. This policy commits our ministry and staff to giving deliberate and consistent attention to the environment in all areas of our church's activities and to striving to make UUCA a model of how faith communities can help our society move toward a sustainable future.
Volunteer to realize the Green Lens policy at UUCA and get involved with other climate justice actions that support the 7th UU principle. Contact: Climate Crisis Action Coalition, uucaclimatecoalition@gmail.com.
Visit the Climate Crisis Action Coalition website to learn more about all the ways that UUCA supports our Seventh Principle.