Weddings at UUCA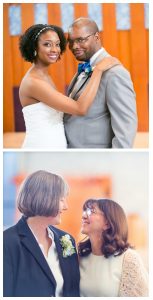 Since 1946, thousands of couples have exchanged vows in our beautiful Sanctuary, celebrating one of the most meaningful days of their lives. UUCA can accommodate weddings and receptions of up to 350 guests. Fees range from $400 for an intimate chapel ceremony to $5,000 for an elaborate ceremony and reception package. Contact Annie Parker for more information.
UUCA enthusiastically welcomes all orientations and faith backgrounds.
Memorial Services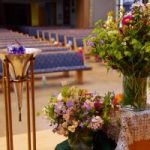 Our Sanctuary and Chapel are available for memorial services to celebrate the lives of departed loved ones. Reception space is also available. Contact Annie Parker for more information.
Facility Rentals

A variety of spaces are available at UUCA to accommodate a host of events including concerts and performances, private celebrations or receptions, conferences and workshops, film screenings, summer camps, and classes or meetings.
All events held in our facility must fall within our mission to Connect, Grow, and Serve. UUCA welcomes individuals or organizations that do not discriminate on the basis of age, race, color, sex, disability, affectional or sexual orientation, gender identity, national origin, economic status, or political affiliation.
For more information, contact Annie Parker.