The Unitarian Universalist Church of Arlington is conducting its annual campaign for the 2020-2021 fiscal year. We ask our members and friends to generously contribute their pledges of continuing care.
A budget is a moral document. Ours is a direct result of your pledges. This is what funds our ministerial staff, so they can organize and provide pastoral care in a moment of crisis. This is what funds our technological infrastructure that allows us to create a virtual connection. And this is what funds the Religious Education staff and programming for our children and youth.
By our pledge, we are simply saying we will do our best to pay the pledged amount sometime during the operating year July 1, 2020 through June 30, 2021. A pledge is not a contract; we are always free to change our pledge as circumstances dictate. If able to do so, you are encouraged to pledge even more generously than last year in anticipation that others of us may be facing financial constraints. Making a pledge is not a financial transaction, but rather an initial commitment to the church that allows us to know what resources we will have available in the coming year.
Where Our Money Comes From
Where Our Money Goes
Many of us in UUCA have adopted the mantra "We Are the Church." By this, we mean we take collective ownership of our mission, means and assets. We, Members and Friends, call upon ourselves to pledge our continuing financial support. Please click "make pledge" above or return the paper pledge card mailed to you, or mail the pledge card to UUCA, 4444 Arlington Blvd, Arlington, VA 22204.
How much ought we give?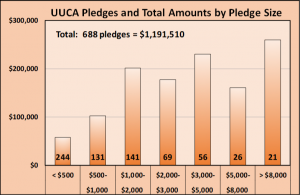 This annual pledge campaign is continuing despite the temporary pause in visits for our capital campaign. If you have any questions or information to share, please email dircl@uucava.org.