Covenant Groups – UUCA's Small Group Ministry

Small groups offer opportunities to connect with others at UUCA. Covenant groups are the most popular type of structured small group in our large congregation, with recent participation rising to more than 300 congregants annually. These groups provide opportunities to form deep relationships, explore your personal story from a spiritual perspective, and share in meaningful conversations.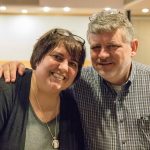 These groups are made up of 8 to 12 people who meet on a regular basis to help one another build community, grow spiritually, and carry out a service project to benefit the church or wider community. Group members get together at church or in homes to talk about spiritual topics such as joy, community, identity, mindfulness, etc. using varied materials such as videos, readings, poems, and insights. These are not intellectual discussions but a chance to share what touches your heart and soul with others.
Trained facilitators lead the groups, steering the conversation in a respectful and thoughtful manner where there is as much listening as talking and a real opportunity to develop close relationships. Groups identify a community service project where they volunteer together to share UUCA's commitment to service and deepen bonds among members.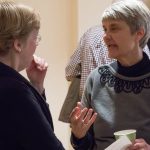 How does it work? Covenant groups typically meet monthly, on different days and at times to accommodate people's schedules as much as possible. Some groups are targeted toward special needs or interests such as newcomers, Spanish speakers, families with children, artists and writers. Some even create their own topic materials to discuss. Most groups meet from October to June, and members are expected to make a commitment to attend all 9 sessions. People report coming away from this experience with life-long friends, rewarding personal growth, and a better understanding of themselves and other people's perspectives.
If you are interested in joining a Covenant Group contact Congregational Life Director Sarah Masters here.