Meet Rev. Aaron McEmrys, Senior Minister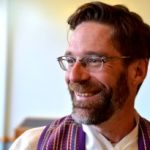 Rev. Aaron B. McEmrys joined the Unitarian Universalist Church of Arlington in August 2014 as its Senior Minister.
He has led a life of service and leadership. Prior to entering the ministry, he advocated for workers' rights as an organizer and labor representative for AFSCME in Oregon, was a council representative to the AFL-CIO, and worked as a grass-roots activist for the Oregon State Public Interest Group.
He is a passionate supporter of marriage equality, income equality, workers' rights, and fighting climate change. He has spent years working with the Hopi and Navajo Indians populations. He has also published a children's book, After Aesop: Stories for All Ages.
Nationally, Rev. McEmrys was one of just 20 ministers invited to take part in the UUA's "Dreaming Big" program in 2008, which provided mentorship and specialized training for ministers of large UU churches. He is a recipient of the John Haynes Holmes Memorial Fellowship, has served on the Board of Trustees of the Meadville Lombard Theological School, and has published several peer-reviewed academic articles including, "Engaging the Sacred Wisdom of our Sisters in the Wilderness: A Unitarian Universalist/Womanist Dialogue."
Rev. McEmrys is an accomplished administrator who thrives on collaboration and draws his energy from working with people. He describes himself as "passionate about cross-cultural relationship building."
"I come from a community organizing background," he states. "It's all about a relationship organizing approach. When the storm comes, and it always does in any struggle, these are things we are never going to solve in a day or a week. The only thing that keeps people going is relationships."
He calls his worship style "holistic." "I do worship that is for whole people, for whole communities and it is designed to make people feel more whole than when they came in. That means body, mind, heart, soul. The idea is to do worship that wakes people up and draws people together and helps set them free a little bit more every week. It has to be transformative worship."
He holds a Masters of Divinity from the Meadville Lombard Theological Seminary and a Bachelors of Science in Labor Studies from the National Labor College.
He is originally from rural Wisconsin, where he learned to love the wonder of the natural world. He also enjoys cycling, soccer, fencing, archery, reading, and cooking.