One aspect of UUCA that draws many people to us is how we express our faith through the arts.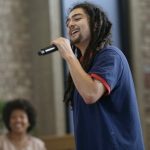 MUSIC. Our music program is central to our worship life and transforms our emotions, lifts our spirits, and inspires us to action. It is important to us to focus on diversity in our musical experience by collaborating with outside groups and offering concerts by noted musical artists.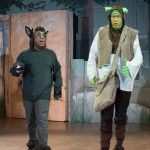 DRAMA. No matter your age, you can take part in our drama program which allows our congregants and those outside the church to share their talents through singing and performing. This intergenerational bonding experience is a good opportunity to share our faith with the broader community and to bring our friends and members in the audience together in a new and different way.
VISUAL ARTS. We also invite those with an artistic gift to create and exhibit their artwork in our visual arts gallery. This often sparks the opportunity for conversation and reflection on important topics, as well as a deeper understanding of how art works to bring about social change.
So if you look to experience faith through multiple lenses, UUCA is here to make that happen. Come check it out!
Choirs and Music Collaborations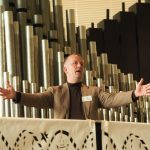 Clerestory Choir. Our adult Clerestory Choir sings in worship services on Sundays. No audition required. Rehearses each Thursday night. Contact: Sophia Morreale
Chalice Choir. K thru 3rd. Meets in the Chapel (on the lower level) each week between services, 10:30-11:05 a.m. and sings 6-8 times per year, both in and outside of UUCA. All children—including enthusiastic pre-school singers, and non-members of UUCA–are welcome. Contact: Sophia Morreale
TrUUbadours Choir. 4th thru 6th grade. This vocal ensemble meets each Sunday in the Chapel (lower level) from 12:30 p.m. – 1:00 p.m. TrUUbadours also sings 6-8 times per year, both in and outside of UUCA. Contact: Sophia Morreale
Youth Choir. (7th thru 12th) A choir for teens who enjoy singing a variety of (mostly) contemporary music. Rehearses each week in the Sanctuary from 1:00 p.m. – 1:45 p.m. The Youth Choir sings 5-7 times per year in services plus social outreach and other events. Contact: Sophia Morreale
Handbells. Three performing bell groups that perform at the church and in the Washington metro area. Ages begin first grade through adult. Contact: Ken Bissell
Solo Performances. Skilled musicians with solo performing experience are encouraged to participate in Sunday services. Contact: Sophia Morreale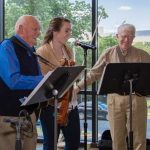 Sanctuaries DC. UUCA collaborates with artists from Sanctuaries DC, a creative and soulful artist collective working on social justice issues through the arts. Sanctuaries' music, performing, and visual artists often take part in our worship services and social justice endeavors in the community.
Drama
Chalice Theatre. Theater and dramatic arts have been a part of UUCA's life since its founding in 1948. In 1997, a new group was founded — UUCA's Chalice Theatre, a volunteer-run ministry of UUCA which offers all ages the opportunity to participate in plays and musicals. Chalice Theatre is most widely known for its multi-generational musicals, directed by professionals. Auditions are held in the fall for the productions, held most usually in February or March. Contact:  Tom O'Reilly
Visual Arts
UUCA Art Galleries. For decades, UUCA has been home to artists (the former Reeb Hall housed artists' studios) and has offered classes and arts experiences to all ages. We have two Art galleries, coordinated by Galleries Director Carson Herrington. The beautiful Center Gallery hosts major shows of works by artists in the wider world – often selected for their connection to our commitment to racial justice, immigrant rights, and human rights. The QUUest Gallery, in the office wing hallway, features art and photography by church members and usually follows the themes of the month reflected in sermons and Covenant Groups. Contact: Carson Herrington