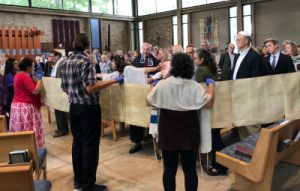 The Northern Virginia Reconstructionist Community
Celebrating our Jewish souls.
Expanding our Jewish minds.
Reconstructing our Jewish hearts.
Kol Ami is a growing and caring group of progressive Jews who believe in the continuity of Jewish spirituality in an egalitarian and interactive atmosphere that respects both the traditional and the modern. The congregation is an affiliate of the Jewish Reconstructionist movement, the fourth branch of Judaism. Kol Ami is blessed with many members with amazing musical skill who perform at some of our services as The Kol Amites. Learn more at www.kolamivirginia.org.
Kol Ami is UUCA's nesting Jewish community. Kol Ami is a separate faith community that holds services at the Unitarian Universalist Church of Arlington, Va.