Giving

Giving is the lifeblood of the church. Our individual souls are nourished by the practice of regular and generous giving to this spiritual home of ours. Besides that, all the programs of the church—worship, lifetime religious education, the arts, pastoral care, partnership efforts such as VOICE and Sanctuaries DC, our connection to the Unitarian Universalist Association, and more—not to mention our amazing staff—are all funded by pledges of financial support from members and friends.
We give to keep our building and grounds lighted, plumbed, heated or cooled, and in good repair. We give to make sure the mortgage gets paid. We give in thanks for those who came before us and created this welcoming space.
When we give to UUCA, we are giving to ourselves so that we can support our community. We are the church. We are the recipients of all this church does for us. We are also the owners. Our giving is what supports UUCA as it continues to Connect, Grow, and Serve.
Giving is our way of taking responsibility for our spiritual home.
How do we give?
Annual Giving 2018-19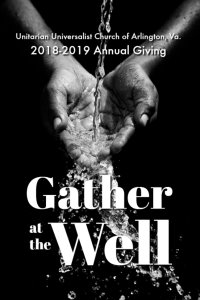 The vast majority of UUCA's annual income comes in the form of members and friends making and fulfilling pledges of financial support to the church. Each February, the church undertakes a campaign to gather pledges of support that members and friends then fulfill during the fiscal year that begins in June. You can learn more about pledging here and you can register your pledge to UUCA here.

How to Pay Your Pledge
Paying your pledge online: Automatic Debit from Checking or Credit Card
Pay in the plate at Sunday worship: By check, mark "Annual Pledge" in the memo line, so that your gift can be accurately credited against your pledge. If you give cash, we have no way of crediting it to your pledge.
Pay by mail: Mark your check "Annual Pledge," and mail to – Annual Pledge-UUCA, 4444 Arlington Blvd., Arlington, VA 22204.
Interested in donating Stocks or Securities? Contact Bob Gayer or bookkeeper@uucava.org
Questions? Contact pledge@uucava.org
Alternative Ways to Support UUCA Through Your Everyday Spending
In addition to your annual pledge and weekly donations to the Sunday plate, there are additional ways to give back monetarily to the church.
Amazon Smile. If you are an Amazon shopper, please use the link to the Amazon Smile program each time you shop. Amazon donates 0.5% of the price of your eligible AmazonSmile purchases to UUCA whenever you shop and use this link.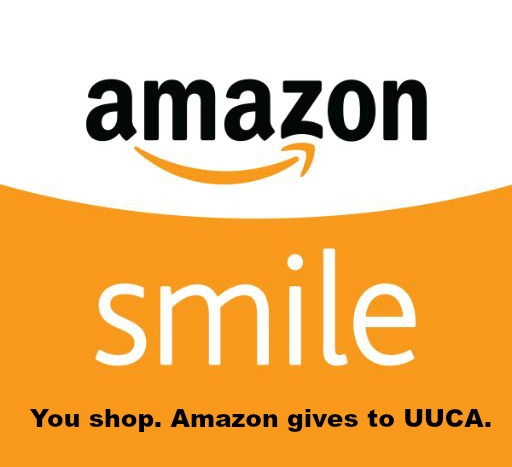 Scrip. If you are a regular shopper at the area Giant grocery stores, please consider purchasing the Scrip debit cards that are on sale most Sunday's in Fellowship Hall. UUCA receives a 5% return on all cards purchased.
Why I Support UUCA