Covenant Groups – UUCA's Small Group Ministry
Do you feel uncomfortable trying to talk to someone in Fellowship Hall after the service? Or are you brand new to the church and want to get to know people on a one-on-one basis? Do you ever feel UUCA is so large that you find it hard to get to know people?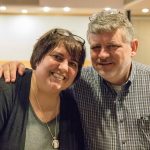 Then you should consider joining a Covenant Group. These groups are made up of around ten congregants who each get together at church or in homes to talk about spiritual topics such as joy, community, identity, mindfulness, etc. using rich materials such as videos, readings, poems, and insights. These are not intellectual discussions but a chance to share what touches your heart and soul with others.
The groups are led by trained facilitators who steer the discussion in a respectful and thoughtful manner where there is as much listening as talking and a real opportunity to develop close relationships. The groups also do a service project together to help the outside community and to deepen their bond.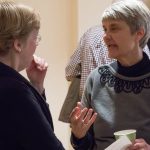 How does it work? The groups meet once a month on different days and times to accommodate people's scheduling needs. Some groups are targeted towards special needs or interests such as newcomers, Spanish speakers, families with children, artists and writers. Some even create their own topic materials to discuss. While most groups meet from September to June, others are starting up at different times during the year so you can always join in. You would be surprised at how many people come away from this experience with life-long friends and a better understanding of themselves and other people's perspectives.
If you are interested in joining a Covenant Group contact Congregational Life Director Sarah Masters.