Chalice Theatre
The dramatic arts have been a part of UUCA since our beginning over 70 years ago. Chalice Theatre began in 1997 as a way to express our faith through the arts and today is most widely known for its annual multi-generational musical productions performed in the spring. Theater lovers wanting more information or to get involved in Chalice Theatre, please contact Sarah Priestman, spriestman@aol.com.
2018 Spring Production: Peter and the Starcatcher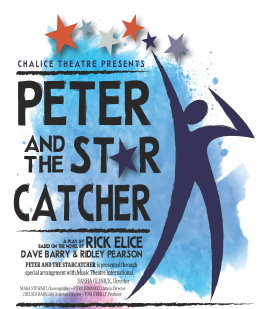 This family-friendly story provides a hilarious look at the century-old story of The Boy Who Would Not Grow Up (a.k.a. Peter Pan) and explores the bonds of friendship, duty and love, complete with bumbling pirates, hula-dancing mermaids, and a Neverland filled with surprises.
This production is directed by Sasha Olinick.
Weekend Evening and Matinee Performances:
February 23/24/25 and March 2/3/4 and 9/10/11